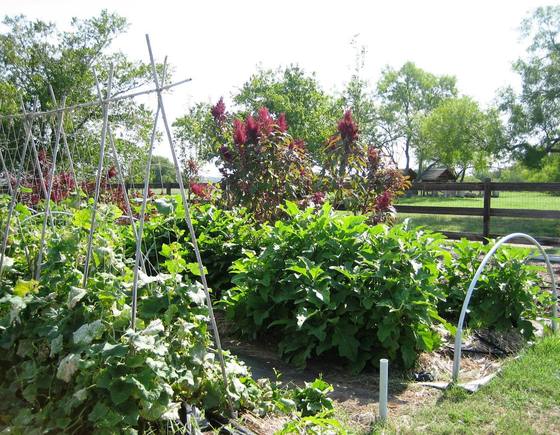 Pelham Lane Farm is located south of Highway 71 at Alum Creek, Texas across the highway from Cottletown Road (half-way between Bastrop and Smithville).
We are fortunate to have rich soil which is evidenced by our abundant earthworm population. We feed the soil using organic supplements including thoroughly composted poultry, cow manure, wood, leaf and vegetable matter, kelp, fish emulsion, molasses, cotton seed meal, worm castings and trace minerals when necessary. When needed we use natural organic pest control methods such as BT, diatomaceous earth, crop rotations, row cover, beer and the shop vac. The beds are usually mulched with wheat straw or hay which can be tilled in the following season. Watering when required is handled using drip irrigation to reduce run-off and evaporation.
Currently, all of the vegetables are grown outdoors (not hydroponically) using row covers during frosts. A green house is used only for germinating the seeds and the first few weeks of growth before transplanting. We feel that vegetables taste the best when they are grown with the earthy flavor the soil provides. However, in the future we may consider growing certain greenhouse vegetables off-season that simply would not survive otherwise. Using row covers, even the bell peppers are grown outside and will last as long as the frosts are not excessively long and cold.
We currently have these vegetables (and eggs) in season on the farm.
Please call 512 360 4363 for produce availability and inquiries.
Bok Choy
Chinese Cabbage
Red Russian Kale
Mixed Herbs
We are only selling produce directly from the farm at the current time.
Now on Facebook